Craigslist
Craig Newmark Philanthropies Partners with Women in CyberSecurity (WiCyS) in Security Education Fellowship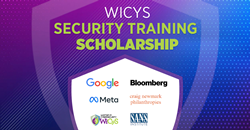 "Protecting the country means everyone who can help must help; everyone is on deck. WiCyS is an important part of this effort, helping to engage people based on their ability to help," said Craig Newmark , founder of craigslist. .

COOKEVILLE, TN (PRWEB)
October 20, 2022
Craig Newmark Philanthropies (CNP) is the latest cyber leader to partner with Women in CyberSecurity (WiCyS) to support the Security Training Scholarship.
WiCyS is proud to announce CNP's support to continue its work to increase the number of women in cybersecurity and advance their careers. Craig Newmark, founder of craigslist, started CNP to support groups advocating for the values ​​the United States aspires to, such as fairness, opportunity, and respect. Its goals are to support and connect people and stimulate broad civic engagement while working to advance grassroots organizations that are effective at getting things done and making real progress on key issues. WiCyS's support is tied to the CNP's recently announced Civilian Cyber ​​Defense effort to strengthen US national security and build a more diverse cyber workforce. The CNP will enable WiCyS to provide career opportunities in cybersecurity to women, regardless of their background.
"Protecting the country means that everyone who can help must help; everything is on the bridge. WiCyS is an important part of this effort, helping to engage people based on their ability to help," said Craig Newmark, founder of craigslist.
The WiCyS Security Training Fellowship is in its third year and was created in partnership with Google and SANS Institute. The program successfully launches and advances women's cyber careers in less than a year and a half through skills development and industry certification. All participants engage in learning cybersecurity skills and can progress through various stages of the fellowship for up to nine months and join the WiCyS community of mentors and peers.
With this additional CNP funding, WiCyS is able to offer additional advanced SANS training, GIAC certifications and CyberGEN.IQ assessments, worth over $439,000. CNP joins a prestigious group of leading cybersecurity organizations contributing to this fellowship, including Google, Bloomberg, Meta, and SANS.
The program has empowered hundreds of members and helped them find jobs at companies such as Apple, Deloitte, Microsoft and Southwest Airlines.
"I chose to pursue a career in cybersecurity after assessing myself and my life during the pandemic. I wanted to try something new," said Christine Morency, who participated in the fellowship program and now works for Booz Allen Hamilton.
For more information, visit wicys.org/benefits/security-training-scholarship/.
About WiCyS:

Women in CyberSecurity (WiCyS) is an international non-profit organization dedicated to the recruitment, retention and advancement of women in cybersecurity. WiCyS was founded by Dr. Ambareen Siraj in 2013 through a National Science Foundation grant to Tennessee Tech University. In less than 10 years, it has grown into an organization (est. in 2017) representing a leading alliance of pioneers from academia, government and industry. WiCyS offers opportunities, training, events and resources to its members. Strategic partners include Tier 1: Amazon Web Services, Battelle, Bloomberg, Carnegie Mellon University – Software Engineering Institute, Cisco, Fortinet, Google, Intel, Lockheed Martin, Meta, Microsoft, Optum, Sandia National Laboratories, SentinelOne. Level 2: AbbVie, Aristocrat, Dell Technologies, JPMorgan Chase & Co., LinkedIn, McKesson, Nike, Wayfair, Workday. To become a partner, visit http://www.wicys.org/support/strategic-partnerships/.
Share the article on social networks or by e-mail:
.

#Craig #Newmark #Philanthropies #Partners #Women #CyberSecurity #WiCyS #Security #Education #Fellowship