Craigslist
Protesters disrupt Redwood Pride Halloween event, threaten and harass Ink People staff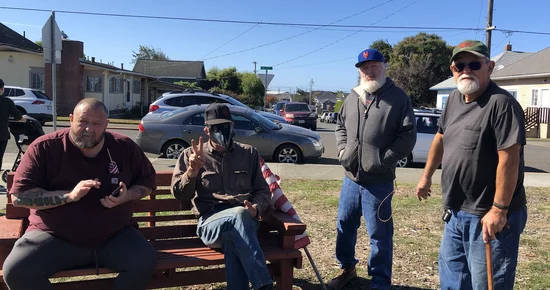 ###
Last Sunday, an all-ages Halloween event hosted by Redwood Pride – a DreamMaker Project from the non-profit organization Ink People – drew a vibrant and diverse crowd of revelers, but it also drew a group of about a dozen protesters who confronted organizers and attendees, aggressively accusing them of " prepare the children" and to be pedophiles.
The event, held at the Jefferson Community Center in Eureka, featured a drag show, in which performers dressed up, danced and synced to pop songs. This element of the festivities was the focus of protesters' outrage both at the event and in the days that followed.
Angry and homophobic posts on Craigslist and social media sites accused Ink People of being "perverts" and "sick people" guilty of child abuse and openly supporting "child homosexuality". Other posts went even further, listing Ink People's address and phone number and making calls to "get them out of town."
Monica Topping, executive director at Ink People, told the Outpost that the organization's office received about 40 phone calls in the first 90 minutes she was there this morning. The only caller she speak with heard on voicemail used the same verbiage, Topping said, threatening to kick the organization out of town.
Officers from the Eureka Police Department were present at Sunday's event, and Topping said she has kept the department informed of the bullying comments and phone calls since.
"They accuse us of being pedophiles and child molesters," said Topping, who described herself as a die-hard supporter of LGBTQ rights.
Redwood Pride director Æpryl Nikolai said the protesters' rhetoric seemed to rely heavily on a set of false notions, "like the one everything drag shows are hyper-sexualized, explicit, and profane, that they sexualized kids, that they groomed or indoctrinated them to be queer in some way, and that being queer in general is wrong.
The history of drag dates back to ancient greece and understands everything Shakespeare's plays at Milton Berlé, Benny Hill and of course, RuPaul.
Nikolai said while Sunday's protesters were sometimes aggressive, only a few interactions turned physical.
"One was that a female (protester) tried to kiss an older male participant," they said. The other case involved a protester rushing at a participant with a camera, which resulted in a bit of a back-and-forth, "but the police put a quick stop to that," Nikolai said.
In a released statement, Queer Humboldt executive director Lark Doolan said protesters showed up to terrorize attendees and cause public disorder.
"These people came within inches of our faces, holding cameras, shouting words like 'paedophile' and 'groomer', accusing us of mutilating children's genitals and claiming they were there to protect our children from us. ", wrote Doolan.
Unfortunately, this type of incident is not unique to Humboldt County. Across the country, right-wing provocateurs like Christopher Rufo and alt-right bands such as Proud Boys have deliberately stoked hysteria on drag shows, targeting pride ralliespublic library readings and private companies with harassment campaigns.
A bakery owner in Illinois, for example, saw her business vandalized, received threatening phone messages and was followed in her car after announcing plans for a family brunch, Defect reported. In Eugene, homophobic protesters 'doxxed and attacked an 11-year-old child for dressing up' earlier this week, according to reports from Living room and Weekly Eugene.
Nikolai told the Outpost that a number of people representing the queer community have scheduled a meeting for Monday with members of the Eureka City Council, Eureka Police Chief Todd Jarvis and Eureka City Manager Miles Slattery.
Doolan said Queer Humboldt is hosting an all-ages "Heart Circle" tonight via Zoom. He explained that a heart circle is "an inclusive space where we share what's in our hearts and witness ourselves speak our truths." Event details can be found on the Community Events Calendar at queerhumboldt.org.
Below is Doolan's statement on Sunday's events (reprinted with his permission).
Dear community,

Some of you know that the wonderful family Halloween festival organized by Redwood Pride last Sunday was interrupted by a hate group. At Queer Humboldt, we don't usually draw attention to this aspect of our community experience, but there are times when messages like these are needed and now is one of those times.

In the history of LGBTQ Pride events in Humboldt County, we have had protesters before, but not so much in recent years. These people were different. They did not hold signs or peacefully express their disagreement. They were shouting hateful, bigoted and cruel things as they stood next to a playground where our children, dressed in their Halloween costumes, were playing.

These people came within inches of our faces, holding cameras, shouting words like 'paedophile' and 'groomer', accusing us of mutilating children's genitals and claiming they were there to protect our children from us. All this, under the eyes of our youth.

When someone talked to them, they made things exponentially worse. They weren't there with love in their hearts. They were not there to protest peacefully. They were there to hurt. They were there to terrorize us and disturb public order. For about two hours, their vitriolic cries could be heard across the park.

One of these people, who screamed with extra fervor, shouted that for two years, at an earlier time in her life, she was in a relationship with a woman. Another man said he was gay but had spent the past two years trying not to be.

While it is easy to meet hate with hate, especially when people are actively causing us harm, we must also remember that at least some of these enemies are deeply hurt members of our own community. Let the pain of this statement touch your heart. Hurt people hurt people. It's not a simple story of us versus them. The enemy is not these people. The enemy is fear and ignorance.

We will not win by fighting these people, by meeting them head-on with our pain and our anger. This will only fan the flames of hatred. Instead, let's embrace hope, educate ourselves and each other on how to build a world where diversity isn't just tolerated, it's valued.

In times like this, we as a community have a long and rich queer history to draw on. The weekend of two-spirit teachings we just completed included many helpful teachings. Video from Friday's conference will be released in the coming weeks. Check it out. We can all learn a lot about Indigenous ways of knowing and being.

The Sisters of Perpetual Indulgence were there on Sunday, embodying the teachings of our gay ancestors (thank you, Sisters, for your wonderful service to our community on Sunday and beyond). Your fierce and playful loving support is an inspiration.

And then there's Heart Circle. Heart Circle is a core practice of the Radical Faeries, a spiritual non-movement rooted in the knowledge that we as queer people will never experience liberation from trying to adapt to heterosexual and cisgender norms. Heart Circle is an inclusive space where we share what's in our hearts and witness ourselves speaking our truths. This technology is similar to how indigenous peoples around the world gathered in circles in perpetuity.

In light of Sunday's events, Queer Humboldt is hosting a heart circle for all ages [today] (Thursday, October 27) at 7 p.m. via zoom. Members of the 2S/LGBTQIA+ community and our loved ones (allies, parents, friends, partners, colleagues, etc.) are invited to participate. Given the intimate nature of this space, we ask that the cameras be turned on. …

We know there is hate, but love is stronger. We look forward to seeing you [tonight]]in the heart space.

just peace,

Lark Doolan
Executive Director
Queer Humboldt
Pronouns: he/she
###
CORRECTION: This post originally stated that Humboldt County Sheriff Billy Honsal would be in attendance for Monday's meeting with Eureka staff and council members. He won't. The Outpost regret the mistake.
#Protesters #disrupt #Redwood #Pride #Halloween #event #threaten #harass #Ink #People #staff