Craigslist
Your CBD Store Founders Are Pioneering a Fast-Growing Segment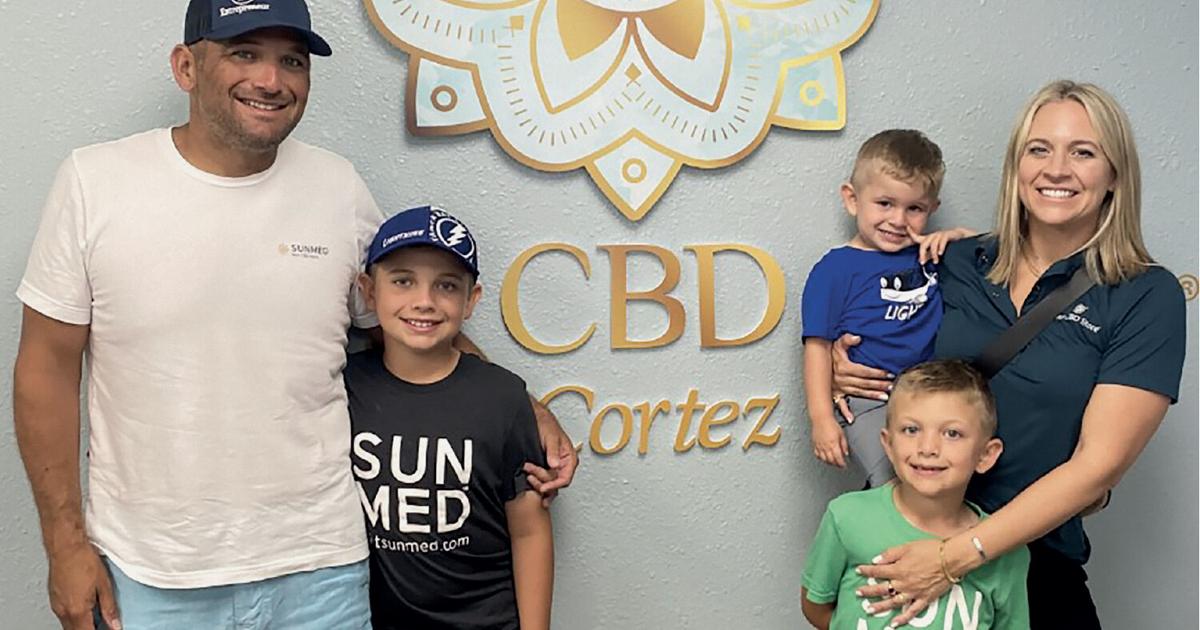 Above: Marcus and Rachael Quinn with their children at a Your CBD Store, the franchise they founded in 2018, which now has over 500 units.
Rachael Quinn battled Crohn's disease pain for years, with side effects from her original prescribed medications worse than the disease itself, she says. Then she found relief through CBD oil, derived from hemp with only small amounts of THC, and she found a new calling.
Today, Your CBD Store has over 500 units in the system co-founded by Quinn and her husband, Marcus. "When I opened this store in 2018, CBD wasn't widely known. I took out a small personal loan, researched CBD, did everything I thought I could do. for the business to succeed. I was really passionate," she recalls. "At the time, I was the only store in town that sold CBD," in Bradenton, Florida, "educating the people about it. It was an amazing experience."
Your CBD Store now has competitors around every corner. "It's sold on websites, gas stations," she acknowledged. Martha Stewart designed a line exclusive to The Vitamin Shoppe. Franny's Farmacy, Carolina Hemp Company and CBD American Shaman are all competitors and franchises.
His mission has also changed. "Now the passion is to bring the highest quality CBD to people…with transparency, education behind the product, and clinical data," she said. "CBD works for so many people for so many different things, that's kind of what makes it so special." She cited Veterans Initiative 22, in which CBD is used to treat PTSD and other conditions faced by military veterans, as a promising project.
"The information we have now makes it much easier to understand the product, understanding different cannabinoids can work in your system for different things. You can identify what goes where, what helps where, and why.
Marcus Quinn, CEO of Your CBD Store, recalls a bumpy ramp-up after opening their first store. "The thing really exploded. By the end of 2019, we had over 500 stores open or in the works," Marcus said. "We had 500 agreements signed and our growth was very rapid."
Part of the credit goes to a crucial decision made very early on, somewhat by chance. "The biggest blessing I had, one of many, in the very beginning, before we even had a building, I needed help with social media," Marcus recalled. "I was looking on Craigslist for someone to help me, and I got an application from a guy who has a PhD in analytical chemistry and worked in the CBD industry."
His first hire was Dr. Anthony Ferrari, now the retailer's chief scientific officer, who leads all of the company's research initiatives, along with the University of Texas-Austin and the University of Florida, among others.
"I'm definitely not a scientist and I don't have a botanical background, but I feel like I'm aware of what's going on," Marcus said, due to the work of Ferrari and their frequent conversations. "It was going out on a branch", at the time. "You hire a guy who was way more than I thought I needed."
Your CBD Store had 510 locations in the spring of 2022, 295 of which were franchises and all of which sold its exclusive SunMed product line. The investment cost of a Your CBD Store ranges from $55,000 to $70,000, which includes inventory and some working capital.
Rachael oversees sales strategies and training, and owns and operates four stores. "I'm able to bring that real life, actually what's going on there, because our customers are our franchisees and our store owners," she said.
Marcus said the biggest competitor in his franchise is CBD American Shaman, but he thinks Your CBD Store stands out because of product development and "about science and clinical trials and that aspect, working with universities, by studying. I think because we've invested large sums in these things, over time they all start to come to fruition.
"I think we're literally only at the beginning of the real release of all the different components of this fantastic plant," he said, with strains that "help you lose weight and strains that help you to relax and those that help you focus," he said. . "My favorite part of this industry is product development and diving into what's going on, and how we can help people."
But at first, "it was crazy, to be honest with you. It was a lot of work, a lot of weekends, a lot of constant work. Even though at the time the kids were 5 and 7. They helped us pack.
So free child labor? "Yeah, the best guy," he said with a laugh. "We had everyone in my family – my brother, my sister-in-law, my brother-in-law, my mother-in-law, my brother-in-law's mother-in-law. We had everyone, everyone on deck for a while.
.

#CBD #Store #Founders #Pioneering #FastGrowing #Segment